MAsT International's Members Choice for Presenter of the Year Award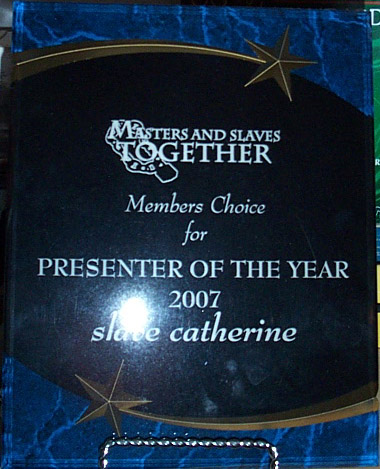 The MAsT International's Members Choice for Presenter of the Year Award will be presented to an individual, couple or family that has presented workshops and or classes on the Master/slave way of life and has freely given of their time to the Master/slave Community.
Couples and families (or Households) will be considered eligible only if both members of a couple, or all members of the family, participate actively in the presentation process.
The entire MAsT community is invited to participate in the nomination process by submitting nominations electronically.
Properly submitted nominations will be passed on to a Selection Panel composed of individuals who are MAsT members from various parts of the U.S. and Canada.
This panel will vote and decide the winners.
Selection Criteria
Any person/persons who are a part of the Master/slave community are eligible to be nominated for this award.
Nominee(s) must have presented workshops/classes on Master/slave dynamics.
Consideration will be given to the frequency with which the nominee has presented.
Consideration will be given as well to range of topics offered by the nominee specifically related to the Master/slave dynamic as opposed to topics focused on BDSM skills/play/technique
BDSM skill/play/technique classes will not be considered.
Consideration will also be give to contributions that have directly affected the Master/slave community in a positive way.
Conduct
Nominee(s) should conduct themselves in a manner which shows courtesy, kindness and respect towards others.
Participation
Nominee(s) should have participated in their local Master/slave community
Nominee(s) should have participated in National Conferences/Events
Special Consideration
Any outstanding accomplishment during the year
Who Is Not Eligible
Winner of the Award will be deemed ineligible for nomination for a 12 month period.
How to Nominate
Nominations should contain all of the following to be considered:
Nominee(s)Full Name
Nominee(s) email address
List of Master/slave presentations
Name of nominating party/Chapter name
Contact information from nominating party
Nominations should be made electronically to: MAsTPresenterAward@yahoo.com
Nominations made by phone will not be accepted.
In the event that a person is not present to receive the Award the nominating Chapter will be contacted and arrangements made to deliver the Award to the recipient
A brief statement (500 words or less) from the nominating party as to why you feel this presenter(s) is worthy of the Award. At a minimum, touch upon the following:
A brief biography of the presenter(s)
The level of participation at events and/or within our community by the presenter(s)
Special qualities or actions that make them, in your opinion, outstanding candidates for this Award
Previous Award Recipients
2016 Lady Catherine G
2015 Master Dan & slave dawn
2014 Sir Stephen & slave catherine
2013 Master George & slave bren
2012 Liza & slave Jody
2011 Raven Kaldera & slave boy Joshua
2010 Lady Lynette
2009 orja
2008 Master Larry and slave barb
2007 slave catherine
Click Here to Submit a Nomination
MAsT International's Alex Keppler Award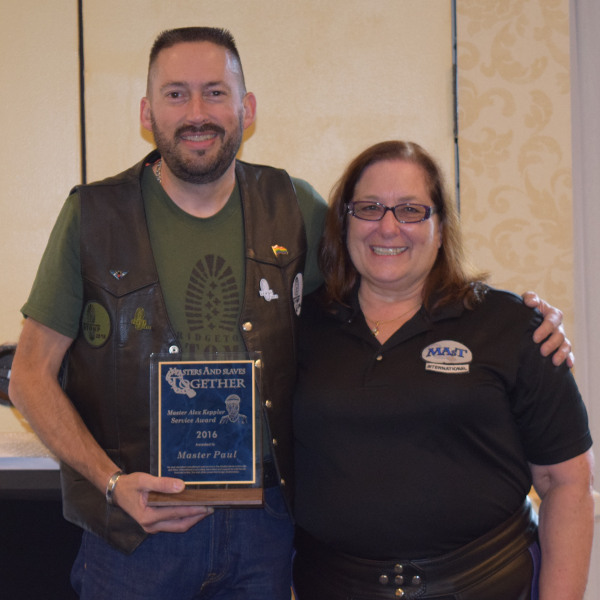 The Alex Keppler Award was created by Master Bob to honor Master Alex Keppler for being at the forefront of the MAsT movement. It is an award given by the President of MAsT International to a member of the MAsT International Board, an Assistant to the Board or a Regional Representative in recognition for an exemplary performance and working tirelessly in support of MAsT International, Inc.
Previous Award Recipients
2016 Master David and Master Paul
2014 MsSuzan
2013 Master Alex Keppler