News and Announcements
2019 Members Choice Presenter of the Year Award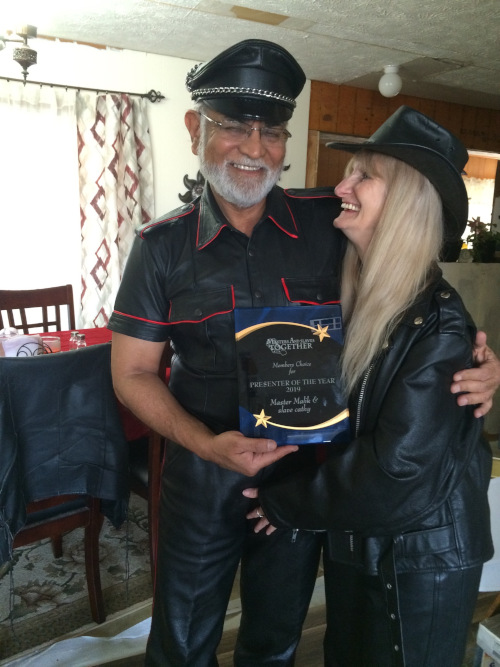 Hello! My name is slave lara from Philadelphia, PA, and I am owned by Lord Brick. I am super humbled to be loaned in service to MAsT: International to be your annual chairperson for the MAsT: International Member's Choice Presenter of the Year award Selection Committee. Unfortunately, I am unable to attend this years' South Plains LeatherFest. Special Thanks to Ms. Suzan for presenting these words on my behalf.

With that said, thank you to all that support this particular annual award. A brief synopsis of this award is that the recipients each year are 100% nominated by MAsT members from across the country. The annual committee that performs the final selection based on all the nominations also are members from across the country from across the MAsT regions. More specific details about the Selection Committee can be found on the MAsT.net Award section.

Without further ado, I am pleased to announce that the recipients of the 2019 MAsT: International Member's Choice Presenter of the Year Award is:
Master Malik and slave cathy from Oklahoma.

Master Malik and slave cathy have been in a Master/slave relationship for over 17 years and are the 2008 Southwest Master/slave couple. Master Malik is also the Founder of MAsT: Tulsa founded in 2008.
Both Master Malik and slave cathy together and separately as well as along with Master Malik's entire household are affiliated with many fabulous titles, organizations, events, dungeons, play spaces, conferences and have performed extensive community service across their history. As self-proclaimed students of life, Leather and BDSM, they have both presented across too many events, conferences and socials to count within the United States and Canada (which is considered their 2nd home).

Aside from all those wonderful things, there were six very distinct parts of just their history in Mastery and slavery that the MAsT Members notated:
• "Thirst to provide education",
• "Thirst to be welcoming",
• "Thirst to build an Accepting and Tolerant Master/slave tribe",
• their "absolute spiritual passion in educating and mentoring others within the Master/slave lifestyle and beyond",
• "They are role models for many and continuously are authentic in their path year after year. ",
• and additionally, a few of the nominator's mentioned one consistent phrase worth noting: "Their workshops are engaging, authentic, and timely!!"

A selection of their Master/slave workshops are as follows but not limited to:
- Master/slave (Dom/sub)/Diversity Dynamics: One Size Does not Fit All
- Conflict Resolution: When An Argument is Not An Argument
- Covering Ceremonies
- Are They Just Slaves?
- "Secrets" of Long Term Master/slave Relationships
- Rituals: Guiding Lights

It is recognized that this only captures a small portion of the larger essence and personalities that they pour into just being themselves in all of their sharing of their experiences.
mssu
With all noted, MAsT: International and the member's at large could not be more honored to present this year's award to Master Malik and slave cathy.
Thank you for your contributions to MAsT and its members at large.

---