News and Announcements
MAsT Newsletter - Spring 2020
Click here to view the Spring 2020 edition of the MAsT Newsletter "M/s Connections".
---
Recommendations for Running a Virtual MAsT Meeting during the COVID-19 Shelter in Place
Recommendations for Running a Virtual MAsT Meeting
Possible Providers (there are many other viable options)
• Zoom (zoom.us)
• FreeConferenceCall.com (freeconferencecall.com)
• Google Hangouts (hangouts.google.com)
• Skype (skype.com)
• Discord (discordapp.com)
• Facebook Chat (messenger.com)
Considerations when Selecting a Provider
• Supported media types (video, audio, text)
• Seek solutions with platform neutrality (not limited to Apple or Windows, iOS or Android, phone or computer)
• Seek solutions that are easy for less technical members to use as well
• Security
• Cost
• Limitations on number of participants
• Limitations on time per session
• Connection quality
• Customer/industry reviews
• Flexibility and controls (moderator, ability to mute, ability to moderate, "lobby" feature)
Advertising the Meeting
• We recommend meetings be limited to chapter members and previously vetted guests.
• We recommend meetings be considered a private call and not to be disseminated to others outside of the chapter and previously vetted guests.
• Connection information should not be posted in a public forum such as FetLife or other social media. A good idea is to provide a general announcement in a public forum such as FetLife with the note that interested attendees should contact the Chapter Director for connection details. This can help to ensure they have been vetted.
• Let members know when they can expect an email or phone call with the virtual meeting connection information.
• We strongly recommend keeping to your standard meeting day and time for the virtual meeting.
Pre-Call Preparation
• Pick topics that lend themselves to the selected medium.
• Choose the moderator(s) who will run the meeting ahead of time and ensure that they understand how to use the selected meeting platform.
• Decide on a method for members to be recognized. Examples are using a "raise hand" function within the chat tool, such as Zoom, or "stacking" by asking a question in chat and having those questions answered in order received ("stacked").

• Consider doing a trial run of your meeting prior to the actual meeting to work through any difficulties.
Holding the Meeting
• Consider opening the meeting at 5-10 minutes early to allow for members to assemble.
• Provide ground rules to attendees at the beginning of the meeting.
• Be prepared for the possibility of an uninvited guest and how they will be dealt with. Understand that your members may be concerned about their privacy. Consider conveying this information to members so that they understand your plans before an issue occurs.
• MAsT members have an expectation privacy at meetings. Do not record the call. Make announcement that no recording of any kind is allowed.
• Be courteous.
• Understand that there may be limitations on electronic communications; it is easier to misinterpret what someone says, particularly in a text-only environment.
• Share time with others.
• Wait to be recognized by the Chapter Director or for a clear pause in the discussion before speaking. Do not talk over other participants.
• Be aware of your surroundings and background and things that may appear in your background or may be heard over audio.
• As much as possible, keep background audio and video distractions to a minimum to keep from interfering with the meeting.
• Use the mute button as needed.
After the Meeting
• Chapter leadership should review the success and/or difficulties during the meeting to assess whether the selected platform is acceptable moving forward and ways to improve the conversational flow among members.
• Asking your members to provide feedback as to how the meeting went and how the selected platform performed
• Consider taking action and implementing improvements for future meetings.


---
COVID-19 Statement from MAsT: International
With the attention and discussion of many of us on what to do with regards to attending chapter meetings and COVID19, the Board would like to offer the following:

- We respect the right of each chapter to determine what is best for their membership and community.

- We encourage the chapters to use their best judgement on how to meet and when/where to meet. Please have a discussion with your membership and see what works for all of you.

- If you decide to use an online/virtual means of meeting, such as video conferencing, we encourage you to remember the need for privacy and discretion, and take appropriate steps to provide the same level online/virtual as you would having your face to face meetings.

- If your membership decides to suspend meetings for a month or two, we completely understand and support that decision. Just please let your Regional Representative know.

- If at anytime, you have any questions regarding meetings, please reach out to your Regional Representative.

Thank you to all the chapter directors and the Regional Council for all that you do. Let us know how we can best help with any of this.

Respectfully,
The Board of MAsT: International
---
Congratulations Master Rook and slave rook!
Master Rook and slave rook won International Master/slave 2020. We look forward to watching their journey during their title year.
---
MAsT: International Member's Choice Presenter of the Year Award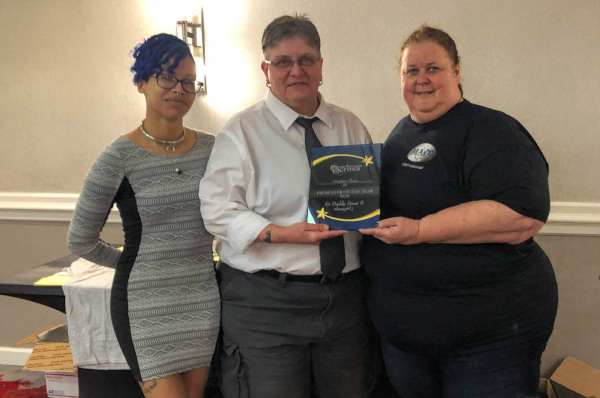 Thank you to all that support this particular annual award. A brief synopsis of this award is that the recipients each year are 100% nominated by MAsT members from across the country. The annual committee that performs the final selection based on all the nominations also are members from across the country from across the MAsT regions. More specific details about the Selection Committee can be found on the MAsT.net Award section.
Without further ado, I am pleased to announce that the recipients of the 2019 MAsT: International Member's Choice Presenter of the Year Award are:

Sir Daddy Daun and slavegirl j……..hailing from as my Master would refer to it as "their roaming Domain" being……a semi-truck…….that has a home base in the NorthWest Region but finds great beauty living and "riding" on our fair country wide roadways!

Sir Daddy Daun and slavegirl j are the Northwest Master/slave 2016 and International Master/slave 2017.

One of the nominators mentioned a song that comes to mind related to this Master/slave couple which was written by American Folk Singer, Woodie Guthrie, named: "This Land is Your Land". Upon finding this song via a quick google search, appreciate that this particular Master/slave couple enjoys traveling across our fair land in a semi truck and finds great passion in educating, presenting, sharing their truth, and networking to our MAsT Chapters, conferences and more. To take it one step further, "they represent the epitome of….This Land is Your Mastery and slavery….Your Mastery and slavery is Your Land…..This Land is Your Land!"

A fair amount of the nominators all reflected that this couple is so darn raw and authentic in their own shoes, path, the various roads and challenges and potholes their Mastery/slavery takes them through…and overall….what life events and reality enters their path. They are an inspiration to the MAsT members at Large and thoroughly display each and every day their truth and authenticity. No matter the road…and even if they do not know where the road will take them…they still…care…and have such heart…to keep moving forward….and often there is a country wide crochet service involved while on the road!

They are affiliated, volunteer and help to coordinate a great many things across their journey together and separately. This particular award is not so much focused on those pieces of their history (and this is not meant to diminish those pieces), but the nominators rather focused more so on the heart, soul, passion, truth and refreshing poignant fresh education that they bring to the road to everything that comes across their path as they provide inspiration to the MAsT Members they cross paths with. No particular road and direction takes them where they head, but instead they move forward across any and all roads that take them forward and they never cease to share and educate along the path even in the most difficult of moments.

Key words from the nominators to sum up all the nominations:
• Beauty
• Honor for their relationship and what it means to them
• Peace
• Raw
• Transparent
• Role Models
• Timely and in the moment
• Transparent education via many different modes of communication channels especially while on the road.

A selection of their Master/slave workshops are as follows but not limited to:
• Serving while Being Served
• A Generation Apart
• Concentrated Communication
• 24/7 at 60 mph: Subtle Service
• Teaching an Old Dog New Tricks: Serving the Chronically Ill
• I Open the Door Because I Want to
• Longevity is my Kink

It is recognized that this only captures a small portion of the larger essence and personalities that they pour into just being themselves in all of their sharing of their experiences.  

With all noted, MAsT: International and the member's at large could not be more honored to present this year's award to Sir Daddy Daun and slavegirl j.

Thank you for your contributions to MAsT and its members at large. Message from MAsT members: "Keep on "Truckin!" to a "town" near us!, but always take care of You First!"
---
The Board of MAsT: International would like to take this opportunity to thank Master Liza
The Board of MAsT: International would like to take this opportunity to thank Master Liza for the years of service working on the MAsT Board. Liza has been with us for quite a while, as Chapter Direcdtor, then as Treasurer and lastly as the Director of Operations. She was a key member of the team that helped transition us from Butchmann's Inc. to the standalone entity that we are today.

We appreciate all she has done and wish her the very best in her future endeavors.

---
The new MAsT Chapter banners are now here!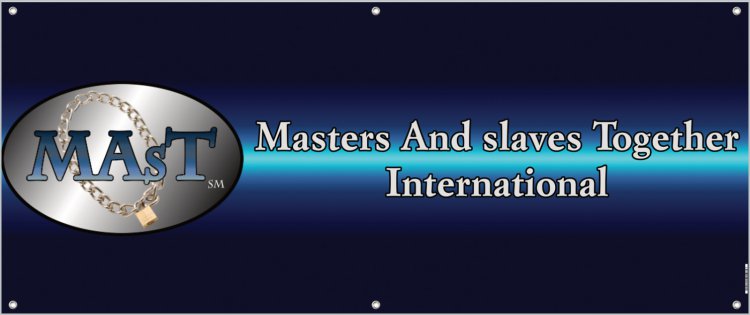 The new MAsT Chapter banners are now here! They are available in the MAsT Store.

Make your MAsT Chapter stand out with these high quality vinyl banners. Use it on the front of a tables, off the balcony railing at hotel events, outside your meeting room, as a background on a stage, in an event reception area, on the side of a truck in a parade.

We had the banner made so that it will fit as a table front on a standard 6" long banquet table with plastic clips or hung with rope or ty-raps from the brass rivets placed in the corners and along the side as shown, or even flown from the end on a pole.

These high quality vinyl banners are 2'6" x 6' long and are quality screen printed with or without your chapter name on 13oz vinyl with the new full color MAsT Logo.

The banner is shipped to you in a reusable shipping tube that can be used for storage.

Savings on shipping? Buy up to 5 banner and they all ship to you for the same price.

Delivery is about 2 weeks to you from the time you order.

Order Now!

Thank you for all your patience.

Master Bill
Marketing Director
---
We are official
We, MAsT International, Inc., have received word from the IRS that we have been officially granted 501(c)3 status.

Our MAsT Logo is now Trademarked.
---