News and Announcements
MAsT-International Annual General Meeting (AGM) at SPLF (South Plains Leatherfest)
The MAsT-International, Annual General Membership Meeting, AGM, will be held on Sunday from directly after the Key Note Brunch. The AGM is the venue where representatives from MAsT chapters gather to discuss issues, share ideas and suggestions that help guide the current and future direction/goals of MAsT. Everyone is invited.
---
News from the MAsT Store about Rockers
Click here for more information
---
---
**Notes from Northeast Regional MAsT Meeting**
#Northeast Regional Meeting Minutes ~ MsC Ballroom III# #Masters and slaves Together International# #September 2, 2019 at 12:30pm#
Fostering and Cultivating Leadership w/ Special Guests Mama Vi Johnson, slave passion, Sir Guy and slave harley
Intro and welcome given by Master Dante Amor and Mission statement read by Lady Ningal
There were a total of 65 individuals present for this regional meeting. This years meeting attendees were proudly representing the following MAsT Chapters (in no particular order) : MAsT Wilmington, DE; MAsT Central,NJ; MAsT Philadelphia; MAsT Massachusetts; MAsT Providence RI; MAsT Towson; MAsT Laurel Women; MAsT Frederick; MAsT Gettysburg; MAsT Fort Myers, FL; MAsT Edgewater Park, NJ; MAsT Metro NY; MAsT East Stroudsburg; MAsT DC Pan; MAsT Fredericksburg; MAsT Greater Detroit; MAsT Salt Lake City; MAsT Midlothian, VA; MAsT NYCity; MAsT Jersey City Gay Men; MAsT Cherry Hill; and the Carter-Johnson Leather Library.
Master Dante introduces the panel and after stacking explained (due to a family illness Sir Guy and slave harley are unable to attend)
Mama VI began the discussion: She remarks as a Grandmother how she in an interesting position. She talks of getting to sit back and watch especially when people don't know she is watching. Mama Vi believes it's important to offer encouragement so individuals can formulate ideas. While she is watching, she likes to see who does the work without taking credit and also see who takes the credit without doing the work. Watch and encourage! -Watch -Encourage -Listen -Be teachable -Learn Important take aways are those who are willing to listen are the best and the brightest and they will come to power and take a seat at the table as a learner.
Next we heard from our second panel member - slave passion; She spoke of watching Mama Vi and this encouraged her. From there she talked of going out and applying what came to her in the concept behind developing MsG. For slave passion being intentional and replicating herself is a strategy to build up the next generation of leaders. Then leaving a slot open at MsG for the new voices who haven't shared before. ~ After this Master Dante Amor opened the discussion to the members who were in attendance. Below is just a sampling of some of the wonderful ideas proffered by them:
-Educate to help the community help to grow to provide guidance -Create safe places for people to experience the community. -Women have a powerful voice regardless of what side of the slash they're on. -There is a need in the community for new presenters and leaders. -People need to step-up especially women. Work and nominate women who have a voice which needs to be heard. -If people step up and it doesn't go well, it's super important to keep encouraging them so they can grow through the mistakes. Continued encouragement is the key. -Be examples and strive to live leadership. -Seek to encourage diversity to build new leaders. -Involvement is an factor important in the community to encourage the new folks. Female Masters are appreciated in the community. Let Female Masters step up to lead and Men need to get out of the way! -Encouraging people to visit other MAsT Chapters can help foster new ideas and possibilities. -Remember slaves have value in leadership. They're very capable but sometimes they get taken for granted and forgotten about. -Use various MAsT groups to cross pollinate and encourage growth.
Everyone in attendance provided a wealth of positive insight towards this topic and were only limited in the end by time constraints. It appears we all are vested in trying to bring in and develop new voices, and new leaders to our MAsT Family.
by Lady Ningal Assistant NE Regional Representative MAsT International

---
Minutes from 2019 AGM
Click here to view the minutes from the 2019 AGM
---
The new MAsT Chapter banners are now here!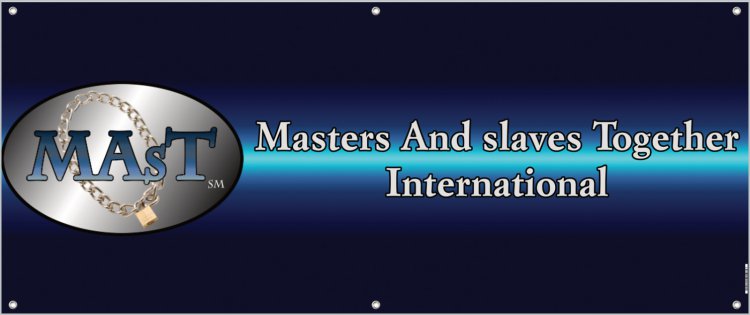 The new MAsT Chapter banners are now here! They are available in the MAsT Store.

Make your MAsT Chapter stand out with these high quality vinyl banners. Use it on the front of a tables, off the balcony railing at hotel events, outside your meeting room, as a background on a stage, in an event reception area, on the side of a truck in a parade.

We had the banner made so that it will fit as a table front on a standard 6" long banquet table with plastic clips or hung with rope or ty-raps from the brass rivets placed in the corners and along the side as shown, or even flown from the end on a pole.

These high quality vinyl banners are 2'6" x 6' long and are quality screen printed with or without your chapter name on 13oz vinyl with the new full color MAsT Logo.

The banner is shipped to you in a reusable shipping tube that can be used for storage.

Savings on shipping? Buy up to 5 banner and they all ship to you for the same price.

Delivery is about 2 weeks to you from the time you order.

Order Now!

Thank you for all your patience.

Master Bill
Marketing Director
---
We are official
We, MAsT International, Inc., have received word from the IRS that we have been officially granted 501(c)3 status.

Our MAsT Logo is now Trademarked.
---