A Message from Master Rodin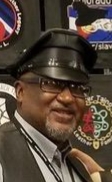 Welcome to the Masters And slaves Together, International (MAsT) website!
The purpose of MAsT is to support, directly and indirectly, those of all identities, genders, and sexualities who are interested or engaged in personal relationships that are based upon the consensual and conscious exchange of power or authority.
MAsT is committed to empowering individuals with tools and resources to help them develop and explore relationships that are healthy, functional, and real.
We fulfill our purpose through local Chapters, support groups, educational and social opportunities and our MAsT website and social media.
MAsT has a large number of active local Chapters worldwide! Click the "Locate" button in the navigation menu to explore where our Chapters are located.
If you don't find a chapter in your area, perhaps you'd like to start one yourself? We are always looking for qualified local leaders to establish new chapters where there is a need. If you're interested, please click the "Start a Chapter" link!
I hope you enjoy your visit to MAsT's website. Hopefully there is some information here that will aid you in your chosen life's path. If you have any questions, please reach out to myself or another board member!
Master Rodin
CEO/Chair
Masters And slaves Together International